Much has been said recently about the pros and cons of teams continuing to work remote versus moving back to an office together. A hybrid model offers both, and it got us thinking: how does remote work differ from working in an office? What are some things that could only happen in a remote work environment?
Recently in this space, we shared our tips for working remotely. Taking it a step further, we asked the Hennessey Digital team in Slack:
What are some "remote work quirks" or examples of things that could only happen in a virtual work environment?
A few key themes popped up in our team members' responses.
Your relationships get stronger
"Having the ability to take a pause between calls and go into the other room to have lunch with my daughter!" – Crystal McCane
"So many great benefits, but my favorite part about working from home has always been seeing my kids off to school and being here when they return home!" – Rob Coleman
"There are so many great benefits working from home. Getting to connect and interact with people from all parts of the world. Having a healthy work life balance allows me to be more productive and happy at work." – Charlie Arboleda
"For me, the benefit of work-from-home culture is joining a company that is 8,000 miles away from my desk." – Abhishek Bittu
You get creative with technology
"Creating unique emojis in Slack!" – Natasha Guy
"Turning the expression on someone's face when their screen freezes into a Slack reaction emoji." – Cindy Kerber Spellman
"Hearing about all the private channels I am not included on whenever we meet in person." – Blin Kazazi
Looks like the web development team is busted. 👀
And you know your team truly is global when, on the same day, Blin Kazazi posted "working from Albania this week" and Arthur Radulescu posted "working from Egypt this week," both with pictures to prove it.
Not bad, guys!
Your coworkers might look different
"Pets contributing to work meetings by, say, knocking things off of the dining room table the minute you get onto Zoom." – Celia Daniels

"When your dog starts barking in the middle of a meeting or when a roommate, family member, or loved one doesn't realize you're in a meeting and starts asking questions or walks into the camera view." – Anthony Fournier
"Cats on camera, cats on the keyboard… CATS!" – Scott Shrum
"Pet coworkers!" – Ilona Townsend
"My latest remote work issue is having to check under my chair before getting up. We have so many blankets and cat beds, but this little one likes to stay close no matter the risk." – Mary Martinez
"I'd be shocked if this would happen in a non-remote work environment: having to push my cat's butt out of the way before a call. I'm gone for two minutes and find him like this." – Teodora Radu
"When your dog only makes an appearance by bursting open your office door out of excitement when he hears the voice of the same co-worker on Zoom (Liz Feezor) or to bark at a different co-worker (Scott Shrum). The same two, all the time." – Cindy Kerber Spellman
Your space is fully customized
Natasha Guy likes making her work space her space…
"We get CUSTOM work spaces we get to design ourselves and we don't have to tolerate annoying coworker habits (I've had to sit next to hummers, loud typers, fiddlers that jiggle the connected desks, a poor allergy plagued coworker whose nose ALWAYS ran lol). Being able to fidget/hum/etc. without bothering others and existing without being bothered by others is pretty great."
And Greg Herrmann loves the no-wait nature of working from home versus commuting to an office.
"I used to always have to wait for things like the fridge or the sink when trying to get my lunch or clean things up at work. Being at home by myself there is absolutely no wait for lunch time or when I need to clean up. Heck, even the bathroom is always available!"
Oscar Stan puts his feet up at work, literally.
"Feet up on the ottoman, table, or just your plain old footstool, with or without flip-flops or socks while doing some work. Oh, and the occasional trudge, sprint, or race to the fridge to grab a drink or an apple if you're health-conscious. 😉"
Ash Baker customizes her calendar to maximize her time.
"Getting to do chores on my lunch break so my after-work time is for relaxation only."
And Kristine Hyman sums up a work-from-home philosophy observed by many, myself included:
"Business on the top, loungewear on the bottom. #pjsforlife"
Expect the unexpected when you work remotely
One of the most surprising things about meeting coworkers in person for the first time? People's heights.
Jasper Prince explains their experience working with a virtual team and what it's like meeting for the first time in real life.
"Meeting folks in person for the first time and seeing how tall or short they are! Plus, people's faces just look a little different in person. It feels like having a bunch of internet friends you finally meet at a convention. There's so much energy, lots of hugs and excitement. It almost feels like a dream when you get back home and start interacting online again!"
And Gerri Turner warns us to expect the occasional at-home mishap.
"When you accidentally lock yourself out of your office/house during lunch and can't get back to your computer so it looks like you're having a leisurely looooooong lunch while you're sweating and trying to find a way to break in!"
Sometimes technology works against us, as Angela Gennovario reminded us. Lest we forget the audio sync issues that plagued our holiday greetings…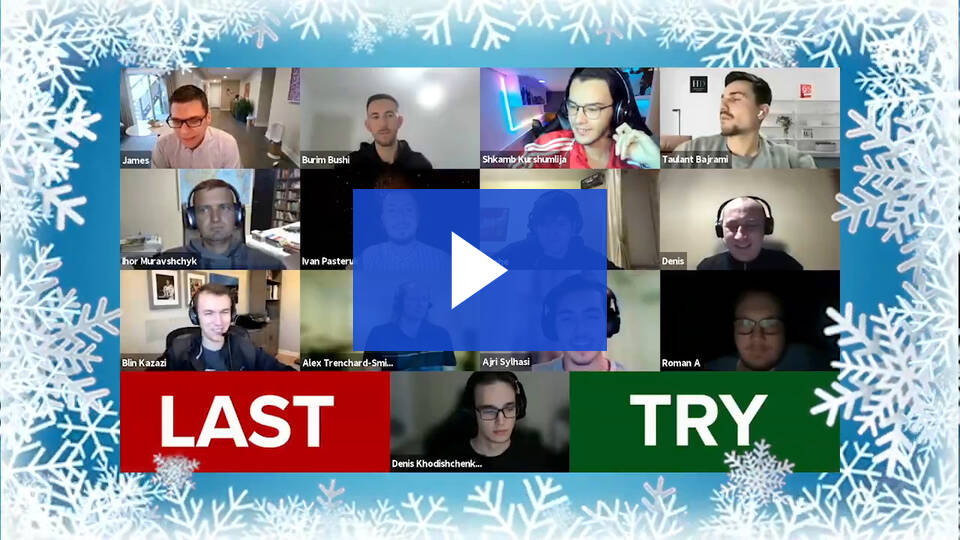 Happy Holidays From Hennessey Digital – hennesseydigital
But tech can also bring us together in fun and unexpected ways, as Amy Heigel remembers.
"In my time here I've been on a handful of zoom meetings with different people and Jason Hennessey randomly pops up in their background and says hi!"
Do you work for a remote company? What would you add to our list of remote work quirks? Fill out the form below and tell us what we missed.