It was an action-packed year for us, our clients, and the digital marketing industry in 2021. At Hennessey Digital, we learned a lot and had our share of fun along the way (ahem, April Fool's Day).
To that end, enjoy our team's holiday greeting where we test the limits of what we can accomplish through Zoom!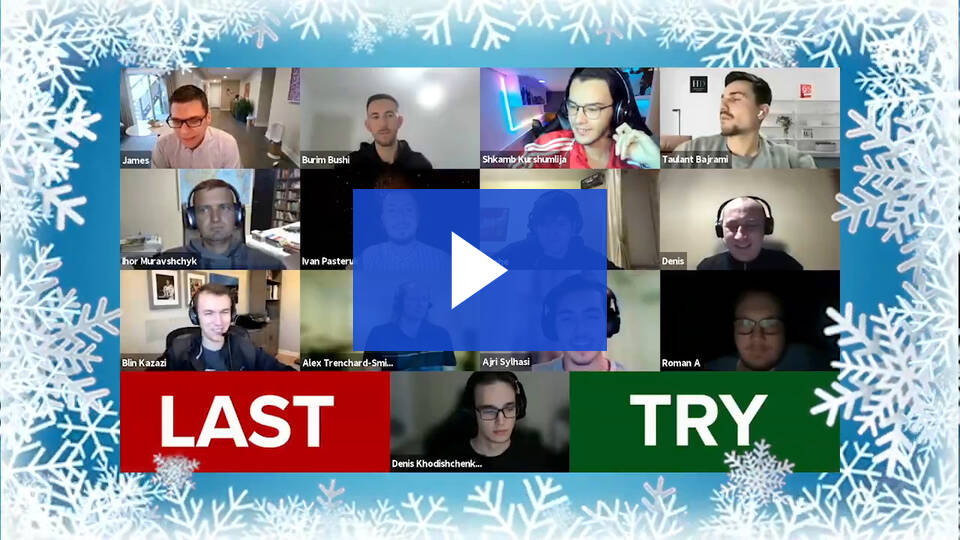 Happy Holidays From Hennessey Digital – hennesseydigital
Jokes aside, there are many things we're seriously looking forward to in 2022. But first, let's recap the year with our favorite parts of 2021.
Our 2021 year in review
Hennessey Digital grew and evolved this year, with many firsts and milestones for the company. Our 2021 highlights:
More than any award or event, we loved growing our supremely talented team this year, with key roles added and several promotions on our team in 2021. Our Senior Manager of Learning and Development Greg Herrmann also led Hennessey Digital's first official mentorship program this year. Thanks to our Executive team for continuing to invest in our people!
Annual leadership retreat highlights
After a hiatus in 2020 due to the pandemic, the leadership team gathered in Los Angeles earlier this month for our annual leadership retreat and planning sessions. All Director-level leaders and above at Hennessey Digital met to plan for 2022 and beyond.
The leadership retreat was a neat experience in that it confirmed the practices we have in place across the organization and our culture of innovation, transparency, accountability and fun that every team member works daily to uphold are effective.
Cindy Kerber Spellman, Senior Director of Marketing
The team also filmed a video and recorded an episode of The Jason Hennessey Podcast together.
Plenty of laughs were had throughout the week at Hennessey Studios, amazing team dinners, and social events including an '80s-themed murder mystery party.
And on the last night of the retreat, a meme was born from a performance that none of us will soon forget. Hats off to Brian Mossman for kicking things into high gear!
Industry notes: legal and digital marketing
Legal and law firms
Legal industry events came roaring back in 2021 and as a relationship-focused business, we couldn't have been happier.
However, COVID is still affecting law firms and the legal industry. With courts still backed up in many areas, the pandemic has had lasting impacts on law firms and the industry at large.
Lead generation through digital marketing continues to be an effective strategy for law firm growth. In the world of mass torts, no new case has been talked about this year than the herbicide Paraquat, which had a lot of attorneys talking at Mass Torts Made Perfect in October.
Other cases of note this year have been related to Hurricane Ida relief in Louisiana and cases against Texas utility companies after the state's deep freeze early in 2021. Our team helped law firms pursue cases like these and more with SEO, optimized pay-per-click campaigns, and strong content strategies.
Digital marketing and SEO
The digital marketing landscape continued to evolve in 2021. Google Core Updates kept us on our toes and digital marketing is still a young industry, so things change quickly in our world.
Further underscoring just how much mobile has taken over the web, in October Google announced that continuous scrolling would come to mobile searches. As SEOs, we may never stop thinking in terms of "getting to Page 1" or "dropping to Page 2," but mobile will continue to evolve in ways that make it more than just a mini version of the desktop web.
SEO is how we got started and is still the core of our business. Our sister company iloveseo.com is flourishing and we look forward to sharing our SEO knowledge through multiple avenues next year.
What to expect from us in 2022
Now that our Vivid Vision outlining our three-year plan for Hennessey Digital is public, it's no secret where our focus and strategic growth areas are. So what can you expect from us and digital marketing in 2022?
More in-house technology developments. As we continue making enhancements to our HD Platform and the WordPress theme for attorneys we acquired, Hennessey Digital has plans to build more tech to benefit our clients and our internal teams.
More industry-leading research. We're releasing the results of an in-depth technical study in early 2022, so stay tuned for something very soon!
More face time and live events. Next year, we're most looking forward to strengthening the relationships we've developed in the legal industry with partners, clients, and friends. We also plan on more "IRL time" with one another: as a virtual team, it's important to meet face-to-face whenever we can.
Innovation and transparency underscore everything we do at Hennessey Digital. We're human and sometimes we fail. And when we do, we often talk about it, both for transparency and to empower others through learning and sharing.
In 2022, we fully expect to make mistakes, learn from them, and move forward better and stronger while accumulating successes for our clients and as a team.
I look forward to failing more in 2022!
Jason Hennessey, Founder and CEO