In digital marketing, SEO and content marketing go hand-in-hand. SEO is like a flower bulb being planted: it has all the necessary components to make a great flower, but it's not going to do much of anything without proper implementation and cultivation. Enter: the Content team!
Content is used to express on-page SEO recommendations. Without SEO-backed content, you'd be hard pressed to find your flower bulb sprouting, much less providing the beautiful blooms and ROI you're looking for with your digital marketing agency. Here at Hennessey Digital, we use a multifaceted plan designed to keep your progress going in a positive direction.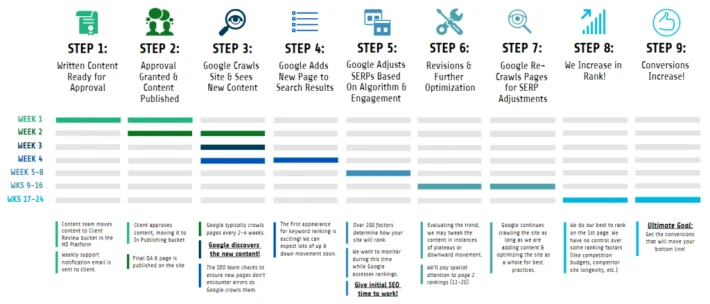 There are many nuances to writing search-optimized content with the ultimate goal of conversions in mind. And when creating SEO-rich content, always remember to write for humans first (more on that later!)
In this post, I'll share tips and tricks from our Content and SEO teams on how we get our clients' sites to the top of Google search results. But first, let's look at the types of content we create for our clients.
Types of content pages
Transactional pages
For our law firm clients, transactional pages are Practice Areas or Services pages, usually found in their respective navigational sections on a website. These pages help your firm get noticed in locations where you may not have offices, but still offer services. They also let us point Google toward you in cities or states where you want more clients.
Transactional pages focus on one main keyword, such as "personal injury attorney" or "personal injury lawyer." The H1 (first header, usually the title of the blog post) should include your main keyword. H2s (any additional headers) should support the main keyword; examples include "personal injury lawsuits" or "personal injury cases," which prevents over-optimizing for keywords.
In doing so, however, the main topic of the page can get muddled and confuse Google as to what the main idea is. For this reason, links to pages with more info are the best way to expound on ideas. Transactional pages should give general, evergreen information specific to the practice areas or services and offer links to blogs or FAQ pages that are relevant to the particular practice area or service.
With transactional, commercial, navigational, and informational pages alike, keyword mapping also helps avoid cannibalization issues and increase visibility for desired keywords.
Transactional pages are written for user consumption in layman's terms (think seventh or eighth grade reading level). And remember, your target audience is not other lawyers; it's potential clients. We want Google to crawl these transactional pages and rank as high as possible in the search results.
And while these pages include relevant information, they shouldn't explain complicated legal information. Other pages on the website can be written for those purposes, but the purpose of transactional pages is in the name: transactions! If your page does a good enough job of explaining a particular concept, it should drive visitors to submit a lead form or pick up their phone.
FAQ Pages
FAQ pages answer the questions your website's visitors may have about what you do or how you do it. The questions and answers found on FAQ pages should be brief and should give exact information that answers the question without much fluff.
These FAQ pages can relate to many different subjects, and your site should try to answer a variety of questions. One way to think about FAQs is that you're helping answer common questions, and many attorneys look at this as pro bono information! Check out this FAQ page from Ben Crump as an example.
FAQ pages are written primarily to inform people and, secondarily, to possibly appear in Google's featured snippets or in the "people also ask" section in Google search results. We've seen changes underway in these sections in the last few months, so at Hennessey Digital, we know to be flexible and keep our eye on the prize as things adjust. Currently, the "People also ask" section may appear in search results similar to this example:
Blogs
A blog post can be considered a longform version of an FAQ page. This is where you want to include external links, stats, etc. to establish that you are an authority on the services you provide. Blogs can also be used to share news about your company, conferences employees attend, events the company sponsors, and more.
Above all, blogs are written for users, so this is the opportunity to share all the details that relate to the topic at hand, but don't fit in with your transactional pages or FAQs. Blog pages may also wind up ranking for featured snippets or in "People also ask" sections in the Google search results, but remember: ranking is not their primary function. It's just an awesome byproduct of keeping your clients well-informed.
Examples of good blog post topics for law firms include:
Winning a landmark case

What was the award?
What were the challenges?

New people hired to the firm

New lawyers with a brief bio, areas of specialty, etc.

Legal practice areas at the firm

Are you adding a new personal injury practice area?
Is there a new mass tort your firm wants to add?

Announcements, events, and awards

Many firms sponsor food drives and other charitable events.
Take lots of photos and videos to include in multimedia posts.
Check out our tips for creating compelling content and remember to update old content periodically to boost the SEO value of the page.
What to avoid when creating SEO-optimized content
Of course, for every "do," there's a "don't." The same goes for writing SEO-optimized content for your site. There are things to avoid for each type of content outlined above.
Things to avoid in transactional pages
Including annual stats. These are apt to change, and your transactional pages should be as evergreen as possible.
Offering links to white papers that are not housed on your website. You want people to stay and convert, not go searching for info on other sites.
Things to avoid in FAQ pages
Complicated answers that need over 500 words to explain. Remember, this is where people are looking for quick answers. Save anything longer for a blog page.
Opinions, especially controversial ones. These should be fact-based answers.
Things to avoid in blog pages
Short-form content that's better suited for FAQ pages. People come to blogs for the fluff!
Marketing language that's trying to sell you to your users. Visitors know when they're being sold. Your blogs should read like conversations with your audience.
FAQs on optimizing content for SEO
The information above provided the basics on SEO for content. Our team gets questions on this topic a lot, and these are the top two questions we hear from clients:
1. Is there such a thing as too much content being added to a site at the same time?
Our recommendation is to add no more than 50 new pages per week. While there are exceptions, this is the general rule we follow as adding new content incrementally helps to better measure SEO efforts. If we publish 200 new pages and it has an adverse effect on organic results, it will be hard to determine at what point too much was too much.
Remember, Google has to crawl, digest, and add this content into the massive amount of information already available in search results.
2. Do you really have to repeat the keyword that many times on a page?
We want to ensure Google understands what the page is about. The main keyword should be used in the meta title, meta description, H1, and several times within the content on the page as well for clarity when Google's bots crawl the pages.
The part of the page seen before scrolling (commonly referred to as "above the fold") is aimed at users and getting them to convert. Many people don't scroll down after landing on the page, definitely not past the halfway point. The top half of a page is written for users, and the bottom section is written primarily for Google.
SEO content for law firms
When we work with law firms on designing search-optimized content for their sites, we always recommend the following:
Timely approval of submitted content. The end goal of SEO-optimized content is to create new leads, but first, it must be added to the site for that to happen. Absolutely nothing can start happening online if there's no content for Google to crawl. Holding up the content process for revisions that most users aren't even likely to read means holding up your results by weeks or even months.
Ask questions. If you don't understand why we're doing something, please give us the chance to explain. We want to optimize your time with the level of behind-the-scenes detail you want. Educating our clients means a stronger, transparent partnership that helps us both grow.
See something missing? Tell us! It might not be added to the page you're thinking of, but we may be able to use it in a different page category. We're the marketing experts, but YOU are the subject matter experts in the areas of law you practice.
If you're missing this level of transparency and communication with your current marketing agency, please reach out and see if your company can feel the Hennessey Digital difference. After all, we are the digital marketing agency you wish you hired first!